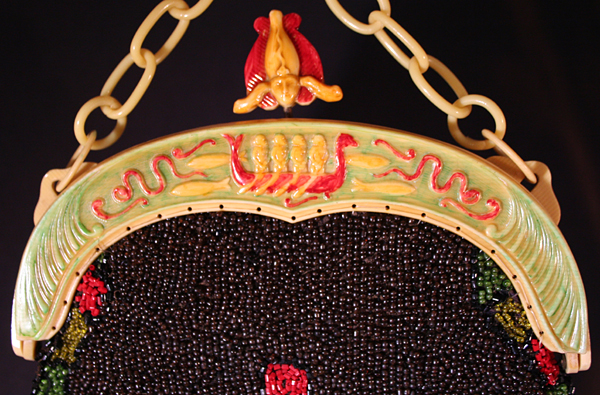 Posted: September 12, 2009
Theme: Egyptian Revival

Description
A fabulous Egyptian Revival celluloid purse. This frame features the pharaohs ship on the Nile. The design is simplistic, similar to a tomb painting. What raises its value is the wonderful addition of color and that the pharaoh on the top closure is shown wearing the Hedjet, the crown of upper Egypt. In Egyptian history there are the Hedjet and the Deshret, the crown of lower Egypt. Combined they form the Pschent or double crown. The purse also has a beaded bag with complimentary colors and the head of either a pharaoh or sphinx – the design is a bit to abstract to tell which.
Size: 7 inches wide, 4.5 inches tall (frame); 7 inches wide, 14 inches tall (whole purse).
Value: 8 out of 10, with 10 being the most expensive.