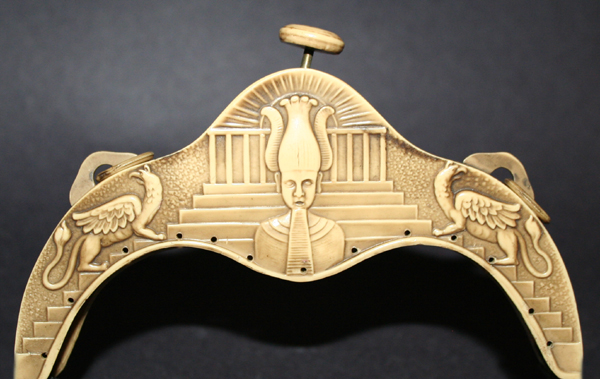 Posted: April 24, 2011
Theme: Egyptian Revival

Description
There seems to be a never-ending variety of Egyptian Revival celluloid purse frames. This one features a pharaoh wearing a stylized Pschent crown with a temple behind him.  What is unusual is the use of griffins on this frame. Griffins are not usually associated with Egypt. You can find them more in art from the Scythian, Crete and Persian empires. Most Egyptian Revival frames feature items taken almost directly from archaeological prints, but this example shows more of an artistic interpretation.
Size: 5.5 inches wide, 4 inches tall.
Value: 5 out of 10, with 10 being the most expensive.