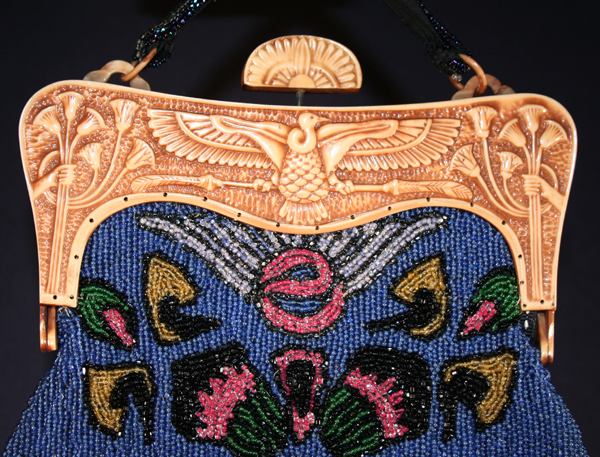 Posted: January 26, 2010
Theme: Egyptian Revival

Description
This is a stunning example of an Egyptian Revival celluloid purse. First you have the frame which is large and features Nekhbet, the patron god of Upper Egypt and also the pharaohs. Nekhbet can be found on the Egyptian crown. Nekhbet was depicted as the white vulture and is usually depicted hovering, with her wings spread above the royal image, clutching a shen symbol (representing infinity, all, or everything). In this purse frame, Nekhbet is clutching two feathered staffs instead. A wonderful beaded bag completes this purse. The bag was professional restored by Terri Lykins.
Size: 7 inches wide, 4.5 inches tall (frame); 7 inches wide, 12.5 inches tall (whole purse).
Value: 9 out of 10, with 10 being the most expensive.