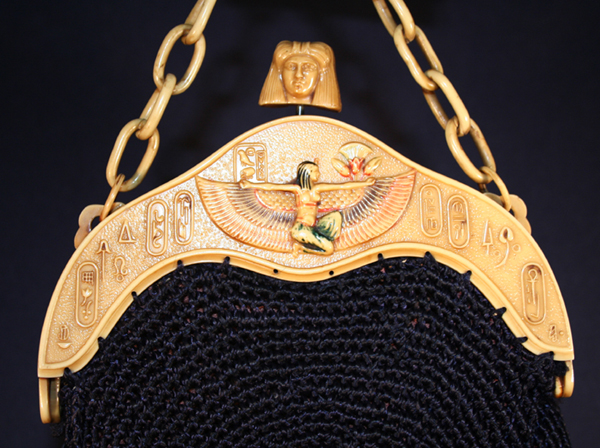 Posted: August 22, 2009
Theme: Egyptian Revival

Description
Egyptian Revival celluloid purses are extraordinary for their themes and use of color. I happen to have a weakness for Egyptian Revival and over the years have collected a great deal of Egyptian Revival jewelry. When I started collecting celluloid purses, I was drawn to the Egyptian Revival purses. This purse features Isis and the image is almost a duplicate of an image painted in the tomb of Seti I. Often times Egyptian Revival motifs, including hieroglyphs, were directly copied from new archaeological finds. It is difficult to see in this picture, but the crocheted purse body is a bright purple thread.
Size: 5 inches wide, 4 inches tall (frame); 5 inches wide, 10 inches tall (whole purse).
Value: 6 out of 10, with 10 being the most expensive.